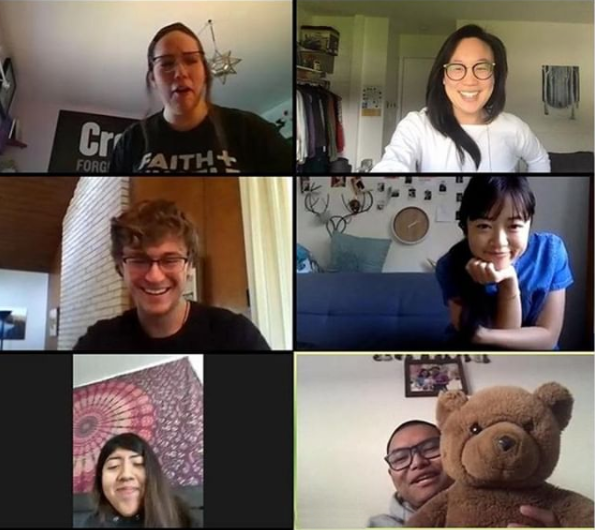 FEATURED 5 RHYTHMS WEBINAR
Leading Online Large Groups
Ben Vail
THURSDAY APRIL 1st 1PM Central
Leading a large group without having to coordinate carrying 500 pounds of equipment into a classroom on campus? Sign me up! Leading a Large Group online (this webinar will focus on Zoom) is much easier than you may think. Join us as we discuss how to translate your in-person meeting into an online meeting that will bless your fellowship.
Keep updated with Digital Resources
Week of 3/30
Encounters with Jesus
Monday, March 30th 3:00-4:30PM CT
Eric Rafferty
Learn how to use a new set of Encounters with Jesus Bible studies that are designed to be used virtually. These passages focus on themes of anxiety, family, healing, and other topics that feel especially relevant right now. These studies are designed to both minister to students personally and prompt them to reach out to others missionally. Join us for a demo of the studies, as well as receive full access to the resource.
Encountering Jesus in the Midst of a Pandemic
Tuesday, March 31st 3:00PM-4:00PM CT
Abner Ramos
Is it possible to thrive spiritually in the midst of the COVID-19 pandemic? The simple answer is yes. But, our rhythms of prayer and what we're praying for will need to change. Come hear stories of personal revival and tangible ways we can thrive in our relationship with Jesus during this time.
Brewing Coffee as Liturgy: Creating Sacred Space in the Everyday Ordinary
Wednesday, April 1st 11:00AM-12:00PM CT
Tom Sharp and the Study Abroad Team
Study Abroad regularly leads Spiritual Pilgrimmages in sacred places like Italy and Ireland. We have developed spiritual exercises from Celtic Christianity and the saints and the artists of Italy that you can practice in your ordinary space right now. This webinar is open to anyone: staff, students, faculty, ministry partners, friends. Plus, you may learn a couple of coffee brewing techniques.
Leading Your Online Small Groups through Lament
Thursday, April 2nd 2:00-3:00PM CT
Dave Paladino & Sabrina Chan
Many students have been preparing for a future that no longer exists or has changed significantly. The spiritual discipline of lament is saying our plans are not our identity and resets our hearts and minds back on God. Sabrina and Dave will help participants guide their student SG leaders through this discipline with time for Q&A and collaboration on next steps.
Engaging Dissonance During the Disruption
Friday, April 3 12:00-1:00PM CT
Steve Tamayo and Diana Collymore
We don't get to choose whether or not we experience dissonance, but we can influence how we respond. In this session, we'll use the recently revised Approaching Differences Diagram to help us navigate the dissonance that we're all experiencing during the disruption. And we'll turn our eyes toward the future asking how might God grow us through this dissonance to be more loving, connected, and just in the future.
Connecting your Gifts to the Gospel, Online - How to Create Witnessing Communities Online Today
Friday, April 3 1:00-2:00PM CT
Doug Schaupp and Jamie Ladipo
We'll walk through our 5 steps evangelism online process, helping every InterVarsity student to connect their joys and hobbies to their online non-Christian friends and training staff to coach this process. We are excited to transform this crisis into a Gospel win.
Week of 4/6
Registration and attendance information coming soon
Shepherding the Class of 2020: Best Practices in Transition Interviews
Tuesday, April 7th 12:00-1PM CT
Ryan Lospaluto
Ryan will download his multiple years of experience in training this topic in GAPS to equip anyone to do good transition interviews, even online!
Crafting and Leading an Online Justice Program
Wednesday, April 8th 11AM:00-12:00PM CT
Scott Hall and Kate Denson
Week of 4/13
Registration and attendance information coming soon
Engaging Nature as Spiritual Discipline
Wednesday, April 15th 11:00AM-12:00PM CT
Josh Harper and Tami Chipeco
The beautiful and intelligent design of the natural world is a series of living systems that are symbiotic and mutually beneficial. Modern science has shown that being in Nature has the benefits of reducing stress and anxiety, boosting our immunity, and catalyzing creativity. Learn how to lead others into an encounter with our Creator through prayerful and attentive engagement with Creation.
Week of 4/20
Registration and attendance information coming soon
Pastoring in the Times of Social Distancing
Wednesday, April 22nd 11:00AM-12:00PM CT
Diana Collymore
Engage with the stories of pastors seeking to care for their congregations after the dramatic shift.
Week of 4/27
Registration and attendance information coming soon
Balancing Kids and Work Amid COVID-19
Wednesday, April 22nd 11:00AM-12:00PM CT
Andrea Lama
This has been a crazy season and balancing work and kids hasn't helped. Join parents around InterVarsity as we remember that our kids are a blessing to us and our ministry. Also, hear from other parents around ways they have found to balance work and family during a hectic season.
Week of 5/4
Registration and attendance information coming soon
Remember Those in Prison
Wednesday, April 22nd 11:00AM-12:00PM CT
Diana Collymore
One of the communities most vulnerable to COVID-19 are the populations of women and men in jails across the USA. Engage with activist for Criminal Justice Reform on the concerns for prisoners in these days, the wider issues of criminal justice reform, and how anyone can take one step towards supporting change.