Beginning with Jesus Bible Study (International Students)
Beginning with Jesus is a four-study guide for international students and scholars. This guide includes Bible text, discussion questions, vocabulary helps, background information, a map, and leader's notes.
As we work through these four studies, we will be introduced to Jesus as well as to Bible study methods.
The Gospel According to Mark introduces us to Jesus and lays a foundation for Christian life and action. As you get to know Jesus better, you are encouraged to trust him and follow him.
We use an English translation of the Bible called the New International Version (NIV). The NIV was translated from the original languages by an international team of more than one hundred scholars.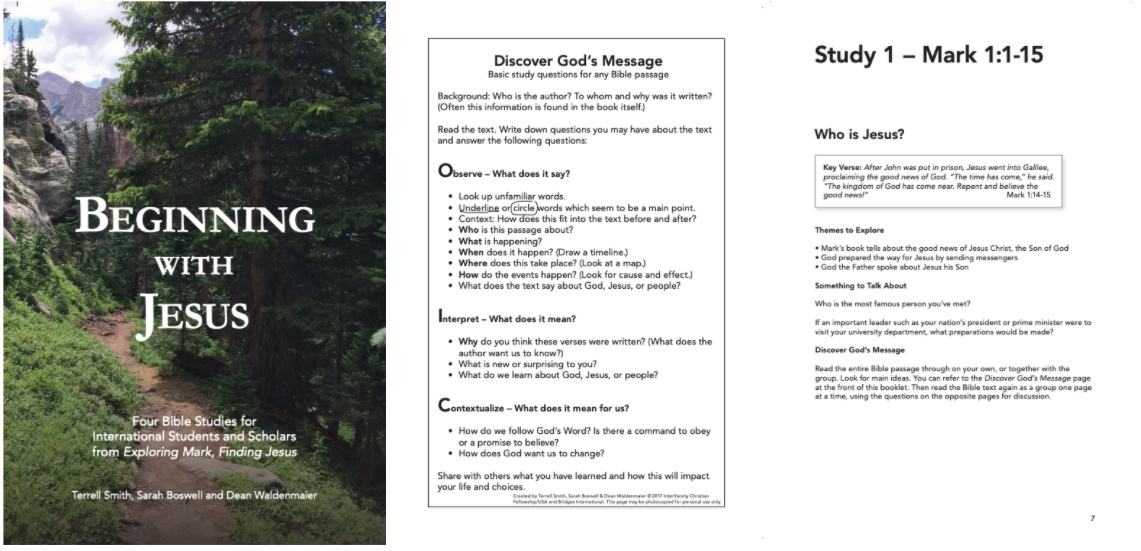 ---
This resource was created by Terrell Smith, Sarah Boswell, and Dean Waldenmaier.
Terrell Smith is an InterVarsity International Student Ministry staff member serving at the University of Wisconsin-Madison. He has been with InterVarsity Christian Fellowship since 1971.
Sarah Boswell is an InterVarsity volunteer staff member serving internationals at the University of Wisconsin-Madison since 2007.
Dean Waldenmaier is a Bridges International Team Leader. He has enjoyed serving students at the University of Wisconsin-Madison since 1997.