New to Zoom?
There are some secret sauce things to help you use Zoom to the fullest, transforming your online meetings from awkward to smooth.
First, learn how to setup your environment:
Then, familiarize yourself with the interface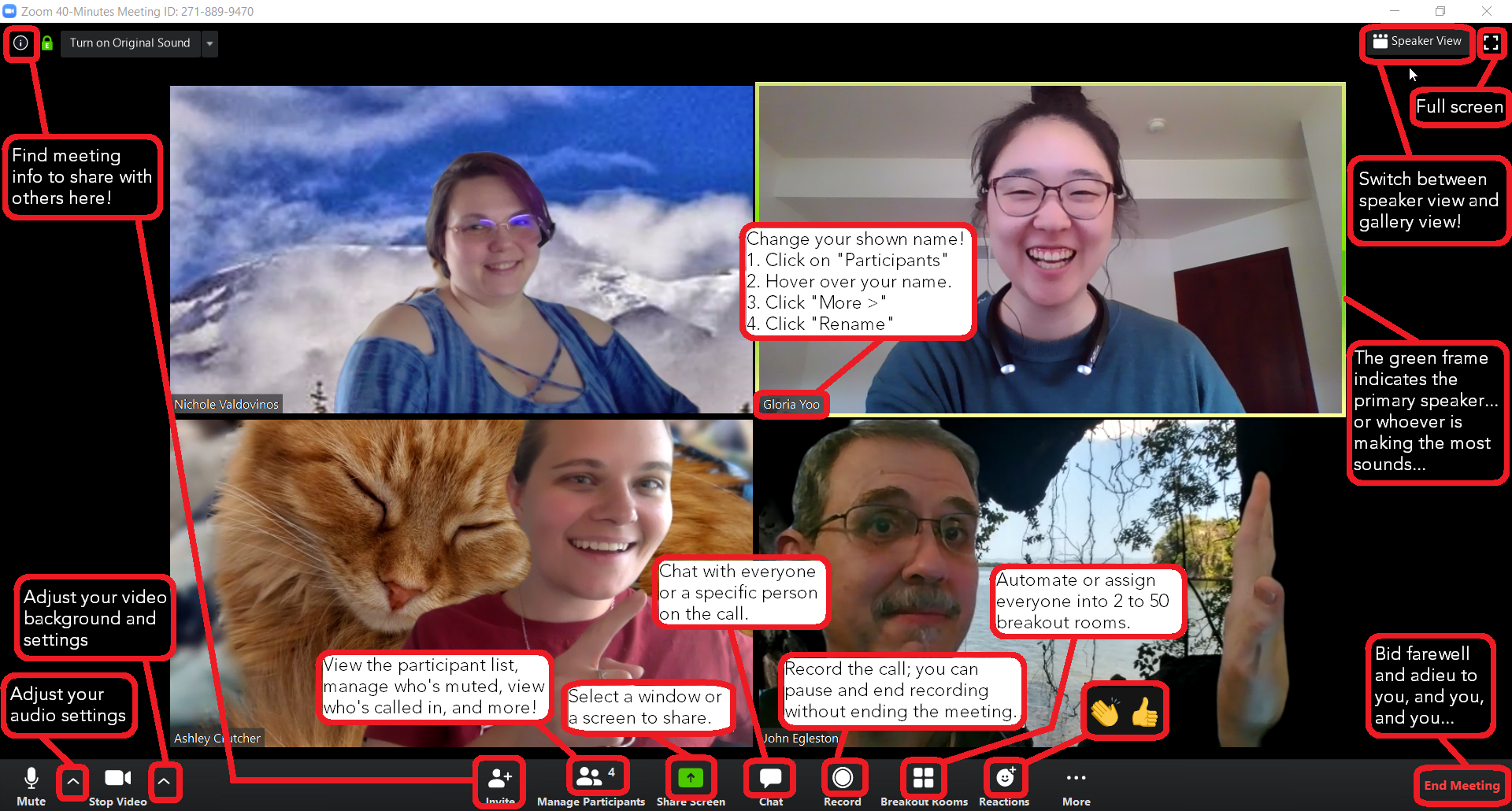 Now, you're ready for Security Best Practices #staysafeonzoom
We've had a few reports of bad actors getting into Zoom rooms via public links. Step up your security game with these tips.
#1 Update Zoom
Zoom is proactively working to push out updates to make online meetings both safer and easier for you and just released an update that made many of our prior recommendations automatic. This is good news! All you have to do is update Zoom. Learn how to check for updates.
Set your security levels appropriately
Public Meetings
In a meeting where you want open access, there are 3 keys:
Schedule the meeting and use the scheduled link instead of using your personal Zoom link. This prevents someone from stealing your personal ID and jumping into other meetings.
Consider having someone as a co-host who is specifically watching out for bad actors and can take action.
Know how to manage participants during your public meeting. You can:

Remove unwanted participants
Mute people
Not allow non-hosts to share their screen
Lock a meeting once it begins
Disable file transfers, and private chat to prevent distribution of inappropriate content
Private Meetings
The updates go a long way towards helping, but if you want to be extra secure, you could consider requiring authentication to join a meeting. Everyone joining will need at least a basic Zoom account.
Final Touches
Tips for Leaders & Hosts
Leaders need to facilitate extra hard in Zoom calls, especially while the format is still unfamiliar to many people. Here are some engagement tips:
Lean towards structured timelines and activities as looser/unstructured activities are harder online.
Invite people to use gallery view over speaker view
Ask direct questions – Call on individuals to keep them engaged
To "go around the room" - everyone is arranged differently on screens, but to achieve the same effect, after one person speaks, they call on another person to get next, continuing until everyone has gone.
In Gallery view, you can actually see "the whole room" at a glance. To get a check-in on how people are doing the "Fist to Five" activity is very helpful. You count to three, and on three everyone shows how they are doing on a scale of 1-5.
Get the Most out of Zoom
Zoom Etiquette
It can be harder to read visual/physical cues as well. Pay close attention when needed, make sure your actions are clear
Have grace! – it's easier to interrupt each other
Use meeting chat to comment without interrupting
If you have multiple monitors, turn it off – it is distracting!
If possible, have your video turned ON. Show that you're engaged whenever possible.
In smaller groups, it can be comforting to have everyone leave mics on and it not be so silent. In larger groups, it's far too much background noise.