InterVarsity's 2030 Calling
Longing for revival, we catalyze movements that call every corner of every campus to follow Jesus.

For over 75 years, InterVarsity has worked to establish witnessing communities on almost 700 campuses. But did you know that of the 2,500 US college campuses (with 1,000+ students), more than half have no known campus ministry presence? God has given InterVarsity the 2030 Calling, to reach all 2,500 campuses by the year 2030. To do this, we will start ministries on new campuses, mobilize millions to pray, and partner with other ministries and churches.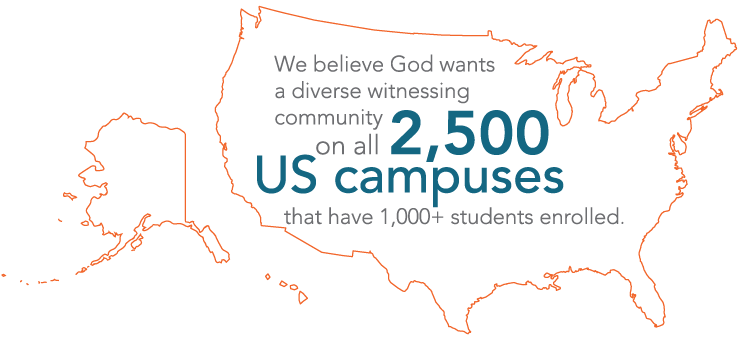 We are praying to see:

71,500
small group
Bible studies

134,000
new believers

769,000
disciples sent out

4,000,000
partners praying
Why 2030?
Who will be college freshmen in the year 2030? Today's first graders. InterVarsity wants every student of this next generation to have a place on their campus where they can come to know Jesus and be discipled. InterVarsity believes that this is a new season of breakthrough in word, deed, and power.
Why 2,500 Campuses?
InterVarsity is on less than 700 of the 2,500 campuses that enroll 1,000+ students. There is still much work to be done. God is calling us to renew our commitment to this strategic place in our culture. There is no campus and no part of campus that we do not care about because the Lord cares.
Why the Campus?
College students ask questions and seek out truth. And nearly 1/3 of them have no religious affiliation. College is where students make choices that lay the foundation for the next 40+ years of their lives, and 34% of believers become Christians between the ages of 15-29. This is a tremendous window of opportunity.
Is it Possible?
Since 1941, InterVarsity has seen more than 1 million students and faculty transformed, including the 4,000 that made decisions to follow Jesus in the 2017-18 school year alone. Over the past 10 years, God has provided great fruit due to our planting efforts. He is moving on campuses, raising up missional students and staff with a heart to reach new places, and providing the resources needed.
Answer the Call

We know InterVarsity cannot do this alone. To see witnessing communities on 2,500 campuses by 2030, we need to depend more deeply on God through prayer, and we need the generous support of partners like you.